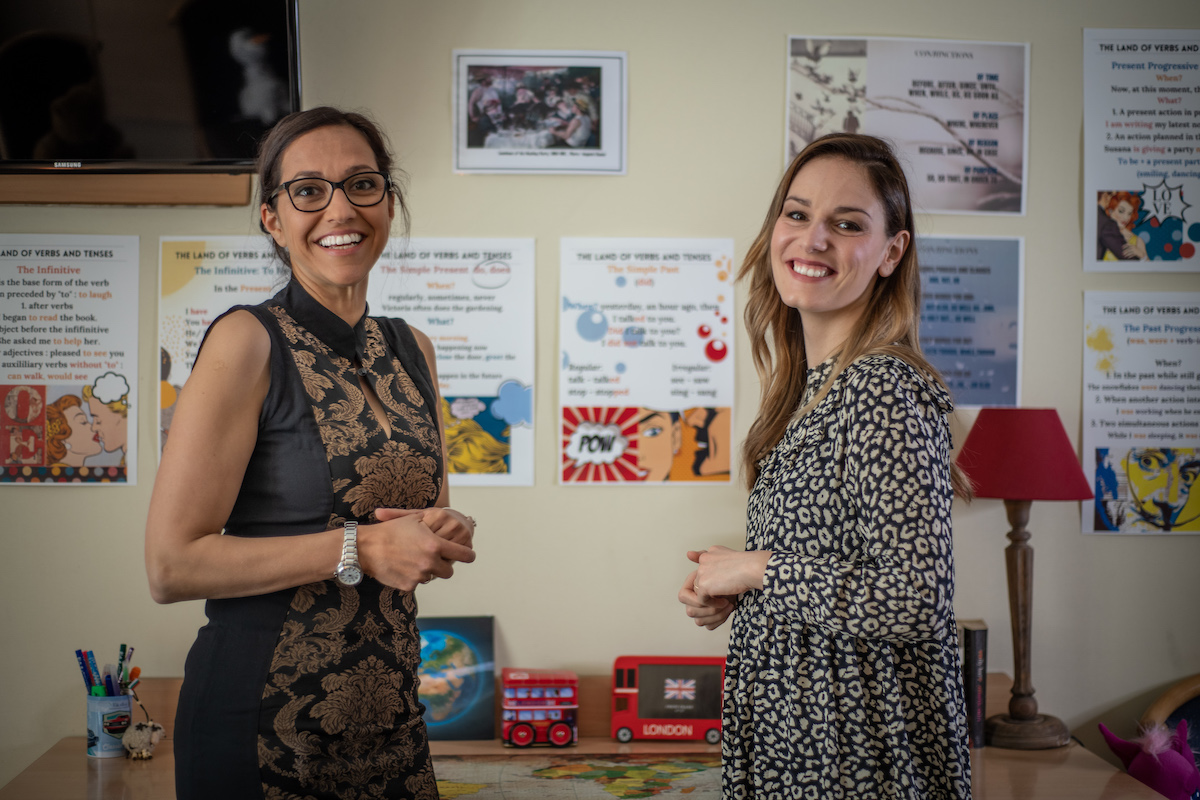 Bespoke
BESPOKE – SUGGESTOPEDIA LANGUAGE CENTRE
email: info@bespoke-slc.com
Bespoke Suggestopedia Language Centre is a fruit of a hard work and a friendship between two women brought together by the shared passion towards languages.
Zlatina comes from Bulgaria. She was born in Varna but she spent much of her childhood abroad. Her father is a musician who travelled a lot so young Zlatina was lucky enough to discover new cultures and speak different languages from a very young age. Once a grown up, she graduated in English philology but that was not the career path she pursued immediately. This is what she says about it:
"I wandered for years… I enrolled in various courses. I was a make-up artist, a photographer, I learned to sew. I worked as a receptionist, a manager of a travel company, a sports studio, but nothing was what made my heart sing. In fact, I never managed to teach until fate presented me to Suggestopedia".
Zlatina lives in France and has been for almost 20 years now. She lives there with her husband and two children.
Nataša comes from Serbia. She was born and raised in Novi Sad, a beautiful multinational city. From the very beginning of her life, she was surrounded by not only different languages and cultures, but also by tolerance and empathy. It was her dream to travel and learn more about people and societies so she graduated in French and Italian Language and Literature.
Knowing that she could only truly understand these two nations only by living in their countries, Nataša first spent a year studying International Relations in Milan and then in Nice. South of France was somewhat a dream place to her and after the Master's degree was obtained, she decided to stay. Like Novi Sad, she found Nice vibrant, open and above all multicultural.
Nataša worked as a language tutor ever since she finished university but it was only when she learned about Suggestopedia that teaching became a real calling, not only a job. She is now happily married to an Englishman and enjoying life on the French Riviera.
After the teacher training with Vanina Bodurova, and thanks to the help of Sonia Mineva, we are happy to announce that since May 2021 we have our Suggestopedic Centre in Nice, France.
Even before we embarked on this wonderful adventure, we felt in our hearts that in every student of ours there was something beautiful and unique waiting to be revealed. Now, after almost a year of working together, we are grateful that Suggestopedia made this feeling real and helped us put it into practice.
We are confident that Suggestopedia is the right and only way of teaching for the two of us. We found a methodology that inspires, drives and empowers our students not only to speak a new language but to realise their full potentials through the process of learning a language as well.
Sorry, no posts matched your criteria.